Birds - Zakynthos Zante Ecology
| | |
| --- | --- |
| | Streptopelia turtur |
Birds - Zante Vacation - Zakynthos Island Greece
Zakynthos and its outlining island Strofada are an important stopping point for many migrating birds - the most common being turtle doves (Streptopelia turtur).
Unfortunately hunters have targeted the turtledoves on Strofada, however local authorities introduced measures to prevent poachers.
For more information please read this link:
---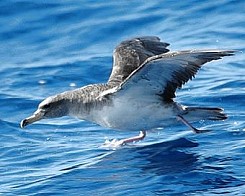 Calonectris diomedea
Also on Strofada lives a colony of Cory's Shearwater (Calonectris diomedea) a beautiful bird with a yellow bill.
---
There are many other types of birds that inhabit or stop over on Zante, such as buzzards, puffins, swans, swallows etc. For anyone who is a keen birdwatcher here are some of the birds you have good chance of seeing.
---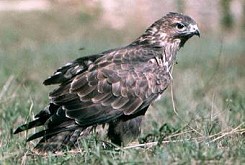 Common Buzzard ( Buteo Buteo)
These birds are found in many countries and they bless Zante with their presence. They are often to be seen circling the Zakynthian mountains and forests - they are a species that likes to live and breed in woods but hunt over open land. They have a distinctive voice - as they sound like a cat meowing.
---
Elenora's falcon
Two - thirds of the world's population of Elenora's falcon breeds in Greece; its chosen breeding ground. This bird can be seen in other areas of the Mediterranean too and it migrates long distances (approx 11,000 km) to Africa.
Elenora's falcons prefer small islands (such as in the Aegean) or uninhabited areas, so on Zante it is mainly found in the north.
Elenora's falcons canbe identified by their narrow wings and long tail and their smooth gliding motion. Adult Elenora's falcons are dark brown with black underwing coverts, but the young birds are lighter in colour with beige underparts. These birds are often seen in pairs and their call is typical of a falcon - kek kek kek.
---
Golden Oriole (Oriolus Oriolus)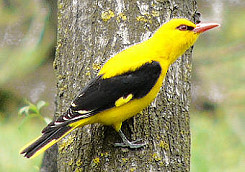 These birds are very shy and notoriously hard to spot. They are beautiful birds- the male is a striking yellow colour with black wings and a tail, the female is green and yellow (and can look similar to a green woodpecker). When in flight they resemble the thrush, dipping and soaring in turn.
Their call is similar to a jay, but their song is distinctive and beautiful (there are 3 different songs: iii-ole, peeloo- peeleoo and weela-wee-ooo).
---
Sardinian Warbler (Sylvia melanocephala)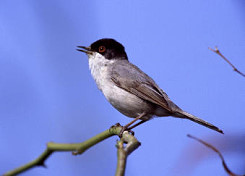 This bird is resident on Zante and the other Ionian islands. It is not considered to be a migratory species although some birds do travel to Africa for the winter.
These birds are small warblers (about 13 cm in size) and there are distinctions between the males and females.
The males have grey backs, white underneaths, a black head, white throat and distinctive red eyes.
The female is brown with a fawn underneath and a grey head. It has a clear and harsh call - Chak chak chak.
---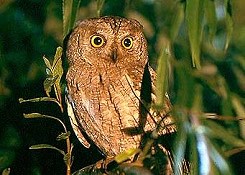 Scops Owl (Otus scops)
This bird is resident on Zante and it is very likelythat you will here its distinctive call (dyoo dyoo) before you see it! It is a nocturnal bird, which also makes it harder to spot - unless you want to stay up all night. These owls are predominantly grey - brown in colour with a paler face.
They are not shy animals, as they live near humans and can be seen flying in close proximity to apartments and studios, so if you do want to stay up at night or happen to be walking back to your accommodation one night then you may well have a chance to view these owls.
---
Woodchat Shrike (Lanius Senator)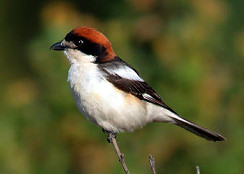 This is a migratory bird that winters in Africa, but spends the summer in Europe and often stays on Zante which it uses as a breading ground. These birds like vineyards and fruit orchards, so Zante with an abundance of both fits the bill perfectly.
The male birds are black with white plumage and a chestnut crown and the female birds are brown with a wavy pattern and beige underparts. It has a harsh call (sounds like Kshairr) but its song is more pleasant to the ears with trills.
---