Zakynthos Municipalities & Regions - Zante
Zakynthos Prefecture - Zante Vacation - Zakynthos Island Greece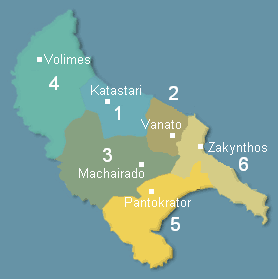 The island of Zakynthos is divided into 6 regions known as municipal departments: Alykon, Arkadion, Artemision, Elation, Laganas and Zakynthion.
The Prefecture of Zakynthos is a non- profit Greek Governmental organisation that is involved in the running of these areas to advise and assist with administration, citizenship, economic development and tourism.
The municipal department of Alykon, in the north east of the island, includes the two popular tourist resorts of Alykes and Alykanas as well as the second largest village on the island Katastari which is also the region's capital town. Other villages in this area are Pigadakia, Kalithea, Skoulikado, Ano Gerakario, Meso Gerakario, Kato Gerakario and Agios Dimitrios.
Arkadion municipal department is between Alykon and Zakynthion. Its capital is Vanato but the best known place in this area is the resort of Tsilivi. Arkadion includes the villages of Kypseli, Tragaki, Planos, Kalipado, Vanato, Agios Kirikas and Sarakinado.
The municipal department of Artemision is on the west coast of Zakynthos and includes many traditional mountain villages such as Loucha and Giri and the village of Macherado (the area's capital), with the pretty church of Agia Mavra - one of the oldest and best known churches on the island. The other villages in this region include: Agia Marina, Agii Pantes, Galaro, Fioliti, Lagadakia, Vougiato, Lagopodo, Romiri, Kiliomenos and Agios Leon.
Elation municipal department is the most northernly on Zante and its capital is the village of Volimes. This area includes the Shipwreck, Zante's famous landmark, as well as the Blue Caves and also the port of Agios Nikolaos with a ferry service to the neighboring island of Kefalonia. The villages in this region include Korithi, Askos, Orthonies, Anafonitria, Maries, Exohora and Kampi.
The municipal department of Laganas comprises the south west tip of the island and is the area with the largest and best known tourist resort Laganas. The capital of the region is a traditional village called Pantokratoras, which offers great views over Lagana Bay. The resorts of Kalamaki and Keri are also in this municipal department as are the villages of Mouzaki, Agalas and Lithakia.
The municipal department of Zakynthion covers the south east area of Zante and is the most populated, with over 14,000 people compared to about 4,000 in the other municipal departments. It includes the capital Zante town as well as the villages of Bohali, Gaitani, Ampelokipi, Argassi, and Vassilikos.