ZAKYNTHOS TRADITIONAL CUISINE RECIPIES - ZANTE
Traditional Cuisine of Zakynthos - Holidays in Zante Island Greece
Zakynthians' are proud of their cuisine, using fresh organic home grown ingredients and still cooking traditional recipes. The Mediterranean diet is one of the healthiest in the world, combing olive oil and vegetables which provide a wide
range of vitamins and minerals - essential for a long and healthy life. On a visit to Zante you will be able to enjoy traditional Greek dishes as well as most types of international cuisine: Italian, Chinese, Indian and British to name a few. However to not try Greek food at least once while staying here, would be missing out!
Greeks love starters when they are at a taverna with their friends or family. They really seem to get the appetite going as well as the conversation flowing. There are many types of starters such as tyropitas or spanakopitas - cheese pies and spinach pies respectively, as well as fried aubergine or courgette balls, or simply fried slices of these vegetables, saganaki (melted cheese) not to forget the wide choice of dips such as tzatiki made from yogurt and cucumber, taramosalata made from fish eggs and melitzanosalata - aubergine dip.
Salads can be ordered as a starter or to accompany the main meal. There are different types of salad in Greece, such as lettuce salad, other greens made into salad or the traditional salad that we think of as a Greek salad which the Greeks call 'Horiatiki' - which includes tomatoes, cucumbers, green peppers, onions, olive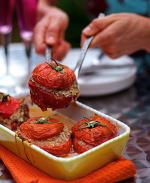 s and is topped with a slab of feta cheese and can be dressed to your individual taste with olive oil, vinegar, salt and pepper.
Meat is very popular with the locals and there are many types of meat available cooked in many different styles. Stifado is a well known dish, which is beef cooked in onion and tomato sauce, as well as Kokkinosto which is stewed beef in a tomato sauce. Also popular are rabbit dishes, either stuffed and cooked in wine or stewed. Souvlaki is also popular and is pieces of meat, normally pork, on skewers.
Vegetarians have nothing to worry about while visiting Zante; they will find lots of dishes that they can eat. On of the best known vegetable dishes is called Briam and consists of a selection of vegetables roasted in the oven - it normally includes potatoes, tomatoes, peppers, carrots and courgettes but can vary as to what is fresh and available at the time. Gemista are stuffed peppers or tomatoes, these are delicious and are popular with tourists and locals alike. The peppers and tomatoes are stuffed with a mixture of herbs and rice.
Fish & seafood are plentiful on Zante. The fish available include: sardines, red mullet, red sea bream, sea bass and swordfish and for sea food - lobsters, prawns and octopus. Ask at any restaurant/ taverna and they will be happy to tell you their specials and what is available.
Greeks typically do not eat dessert at the end of the meal, but sometimes pieces of fresh fruit such as watermelon or apple slices with honey and cinnamon are served. However deserts are normally available to cater for Western tastes and another popular Greek choice is yogurt topped with local honey. For those with a sweet tooth there are some other nice delicacies to try such as 'pasteli' which is a chewy sweet made from toasted sesame seeds and honey and another well known Zakynthian product is 'Mandolato' a type of nougat. During festival times and near St Dennis's day on the 24th of August, street sellers in the Capital town sell 'fritoures' which are a fried sweet. In the pastry shops you can also find Baklava and Kataifi - well known Greek pastries.