Business for Sale with privately owned plot In Zakynthos Island, in the village of Katastari, on the road Zakynthos - Volimes.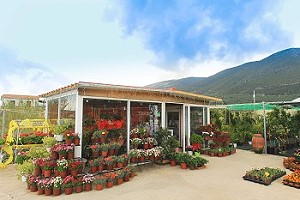 The business operates in a plot measuring 1770sq.m. as follows:
1) Florist Shop 30sq.m. (and spacious outside area)
2) Plant Nursery as a production and sales area 300sq.m. (with all the necessary production and sales licenses, autonomous water supply and all the required installations for its operation (greenhouse 300sq.m., heating system, watering system, surveillance system with safety cameras).
It features a large parking area and a two floor building site 100sq.m. with a license for a professional area that is under construction (the base is ready). You will find a blueprint below.
The business has been operating for 6 years now with great success and a prospect for further development.
The florist shop undertakes weddings, baptisms and more. Check out our Facebook page.
The business also undertakes the design, application and maintenance of gardens with a steady clientele and thus has all the tools needed.
Furthermore, the sales department of the business sells beautifying plants and bushes, fruit trees, citrus plants and blossoms.
Only serious proposals are accepted.
And the commitment towards the buyer is we will stay and help the new owners for the first three months.
For more information please contact Mr. Athina Gouskou.
Tel.: +30 26950 83907
Mobile: +30 6976 336 878
Email: athinagouskou@yahoo.gr
Facebook:https://www.facebook.com/anthokipos.katastari